What we offer
We at SUP Calhoun want to get more people in the know and on the water and experience a truly magical feel of almost walking on the water and experiencing our amazing lakes in a new way. Did we mention its also a great full body workout that helps improve your balance and strength!
Stand Up Paddle isn't the hardest sport in the world to learn by any means, if you can stand on one foot you can paddle. Paddling does however take a little practice and some instruction to learn how to do the right form for paddling, tips for balancing, and turning.
SUP Calhoun Party Barge Rental:
SUP Calhoun is the proud owner of one of the funnest paddleboards in the Midwest!!! This 19ft long and 5ft wide board can hold 8-10 people and all can paddle comfortably.  Made by Starboard, the Astro Starship is a giant inflatable Paddleboard made to throw a party on…so naturally we've just come to calling it the Party Barge!
Take this board out and explore the lakes with your friends, or just hang out in the middle of the water!  No matter what you choose, you know it will be a great time.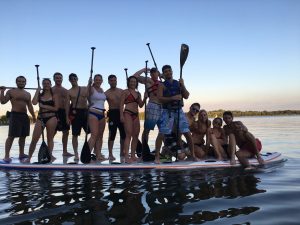 Party Barge 2017 Rates:
-1 hour: $150
-2 hours: $250
-4 hours: $400
**Please note there is a minimum of 4 people needed to reserve this awesome time on the lakes.**
SUP Yoga: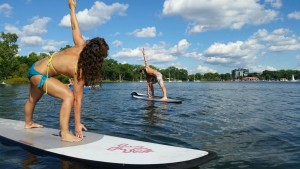 Join us on Tuesday and Thursday evenings at 6:45pm and Saturday mornings at 9:30am for our weekly SUP yoga sessions hosted and led by our very own Yoga certified instructor Cassie Brink.  This class will vary week by week-but generally will go through a Vinyasa flow that will restore your chi or incorporate moves that will push your limits on a paddleboard and could make you a bit wet if you're not careful…but its all part of the fun and experience!
Join in on this new twist of the Yoga craze, or take a new spin on something you've been doing for years!
Our Summer 2017 rates are as follows:
-Single Session (w/ Board Rental): $30
-Single Session (w/ Your own Board): $15
Also make sure you grab one of our punch passes and every 4th class is free!
Register for YOGA HERE with Recreogo
SUP Calhoun Fitness Classes:
You've tried paddleboarding but you secretly wanted something that gave you a bit more of a workout.  Well have we got a class for you!  Come get your butt kicked in one of our SUP fitness classes which will take you through a series of body weight exercises all done on the paddleboard adding an increased difficulty of stability to every move.  Add that to some Cardio by running through the sand and you have yourself a great workout.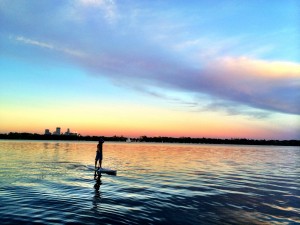 Don't believe us? Come see for yourself and check out our daily POD (Paddle of the Day)
Single Class (w/ Rental): $40
Single Class (w/o Rental): $30
5 pack (w/ Rental): $150
See why most paddlers are in such good shape!
Private SUP lessons
Paddleboarding is truly a sport that just about everyone can do, but there is a great deal of technique and form that often are overlooked in this leisurely sport.
Whether you want to better your form, get faster in the water for a paddleboard race, or simply improve on your paddle skills…sign up for a private lesson with our WPA certified instructors who can give you a more in depth look into paddleboarding and critique and fix your form so you can become a better paddler.
Lessons are 1 hour long and will provide a board if needed for you (although if you have your own thats fine too). Each lesson will be specifically tailored to the individual paddler and can cover topics ranging from stroke technique, race strategy, turning, or whatever is desired.
Private Lesson: $75
Private Lesson w/ Video analysis: $150
---
Let us make you the best paddler you can be and help you get set on the right track for this sport for years to come!